Microsoft has announced a new suite of products for creating professional quality web sites.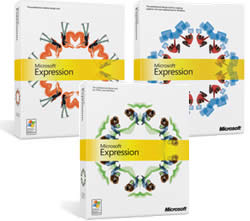 The Expression Suite will consist of:
Expression Graphic Designer - Currently named Acrylic which is currently available as a Community Technology Preview for those who are willing to try pre-beta software. A new CTP has been released along with the first Sparkle CTP.
Expression Web Designer - At this point there is very little information available on what the new Expression Web Designer, code name "Quartz" from Microsoft.
Expression Interactive Designer - The CTP is finally here! I'll be updating the Sparkle page.
Logo Contest
While this site is dedicated to all three Expression products graphics are not my forte so as part of the forum launch a contest for a new site logo will be held. The logo should be created using Expression Graphic Designer and the original xpi and a jpg or png should be submitted. The creator of the logo that is selected will have full credit on this site as the creator of the site and one year free web hosting. See the contest rules and forum for more information.
Come see a detailed tour of Microsoft's powerful new standards-based tool for Web designers. Get the inside scoop from an Expression Web Designer product team expert and join leading designer Lynda Wienman (founder of lynda.com and FlashForward) in a tour that shows how Expression Web Designer is the new champ of standards-based Web design. For more info on the sessions see https://content.mix06.com/content/sessions.aspx Or you can watch the Channel 9 Videos.
Contest to Remix MIX
If you don't like their current site, which I will freely confess not to liking since I find it dark and hard to read, here is your opportunity. There is a CSS Zen Garden type challenge to create a new look and win:
Your ticket to the MIX conference
Airfare to attend
Lodging at the Venetian
A one-of-a-kind, MIX-themed, Xbox 360
For more information see: mix06.com/Contest.aspx
Contribute?
Interested in having your article or tutorial on one of the Expression applications pubished or linked form this site, please let us know.
Email to: comments at by-expression dot com or the web based contact form.
Hands on Labs
With the release of the first CTP for Sparkle Microsoft has new and updated Hands on Labs on MSDN. While most of the labs are aimed at Windows developers some of them will apply equally to web designers and developers, especially the ones for 2D and 3D content.
In the meantime I've added selection of RSS feeds from those involved in creating Acrylic, Quartz and Sparkle, you can check out our blog roll. As more information becomes available I'll post links on this site to them.